It has been an amazing journey…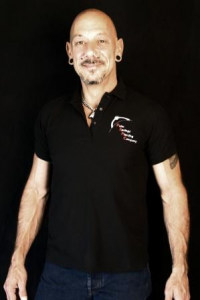 That started 24 years ago when I joined The Gauntlet as a body piercer. Over that time, I've had the opportunity to open many of my own studios, finally landing here in Palm Springs in 2004. Through Palm Springs Piercing Company, I have met and worked with many amazing clients, many of whom I consider dear friends. I am indebted to those who have supported me and encouraged me to build a piercing business that I take great pride in.
Six years ago, I had the incredible luck to meet my husband, Rob. He came to me for one ear piercing and has been at my side ever since. With his assistance, we grew the business even more on the retail clothing side. Despite the challenges presented by the pandemic of 2020, the menswear division got us through. As my 25th anniversary as a body piercer approaches, I must admit that I am a bit tired. Piercing dozens of clients weekly is taking its toll on both Rob and me. So, after a great deal of thought and business planning, we have decided to retire from the body modification industry and give our full attention to Division Clothing.
I am eternally grateful to all who have contributed to our shop's success. We hope that you will be as excited as us as we begin our new endeavor.
Aloha,
David McCammon
 It is with a heavy heart to say these were some of the last words from this remarkable man.  He passed away in August of 2021.
David's lifelong dream of becoming a piercer came to fruition, also in 1998, as he served his apprenticeship under Jim Ward with Gauntlet Piercing in San Francisco. Soon after he became the co-owner of Gauntlet, which became Gotham Body Piercing with stores in San Francisco and Guerneville, California until the move to Palm Springs in 2004. At that time the business became known as Palm Springs Piercing, for which it remained until his retirement from piercing in July of this year.
David is survived by his soul mate and husband, Rob McCammon who is lovingly keeping David's legacy alive by operating the business they ran together.
Palm Springs Piercing is no longer operating a physical store but will be offering a selection of on-line piercing products soon.  Meanwhile, you can visit their other store and website at Division.
Offering the finest expertise and skills in performing unique body piercings, implant and modification services in Southern California...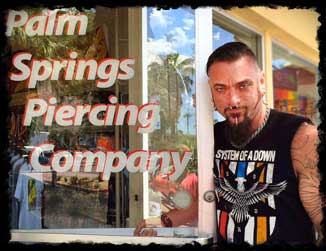 We're your source for world-class piercing and body modification expertise, excellent customer service, and the highest quality body jewelry for many types of piercings. Our piercing shop also offers a great selection of fine jewelry, clothing, and accessories. We provide our customers with the highest quality products, piercing and body modification services available. 
Staffed by experts, our piercing studio stocks the largest selection of small to large-gauge body jewelry in the Desert Southwest. Explore our website for more information on the many types of body piercings, piercing names and locations, body modifications and implants.
210 E Arenas Road
Palm Springs, CA 92262
Phone: (760) 327-1656
Email: [email protected]